Aquajet-Inox 102M .75K.W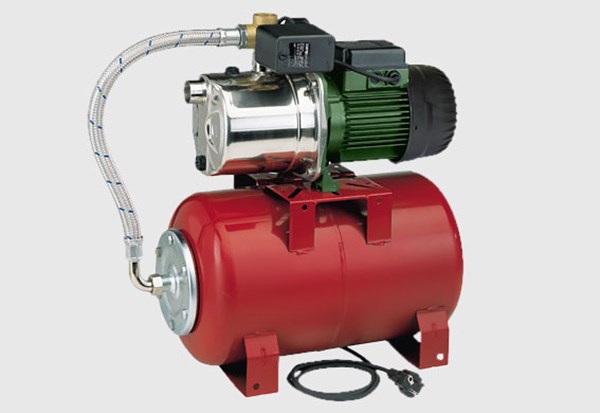 Applications 
Automatic water lifting sets, particularly suitable for domestic use, small installations for civil, industrial and agricultural use, washing systems and hobbies. These are characterised by the use of JETINOX self-priming electropumps which can operate even when there is air, gas and small quantities of sand in the water. The set is composed of a diaphragm tank with capacity 20 litres, pressure switch for automatic operation, pressure gauge, JETINOX electropump complete with power cable and plug, kit for coupling the pump and the tank, all assembled and ready for installation.
Constructional features of the pump: 
Die-cast aluminium pump body and motor support. Technopolymer impeller, diffuser, Venturi tube and sand guard. Stainless steel pressure discs. Carbon/ceramic mechanical seal.
Constructional features of the motor: 
Induction motor, closed and cooled with external ventilation.
Rotor mounted on oversized greased sealed-for-life ball bearings to ensure silent running and long life.
Built-in thermal and current overload protection and a capacitor permanently in circuit.
Manufactured according to CEI 2-3 and CEI 61-69 standards (EN 60335-2-41).
Motor protection: IP44
Terminal box protection: IP55
Insulation class: F
Standard voltage: single-phase 220-240 V/50 Hz
Operating range: from 0.6 to 5.4 m3/h with head up to 61 metres
Liquid quality requirements: clean, free from solids or abrasive substances, non viscous, non aggressive, non crystallized, chemically neutral, close to the characteristics of water.
Liquid temperature range: from -10°C to +35°C for domestic use (EN 60335-2-41) from -10°C to +40°C for other uses
Maximum suction depth: 8 metres
Maximum ambient temperature: +40°C
Maximum operating pressure: 8 bar (800 kPa)
Installation: fixed or portable in a horizontal position
Special executions on request: other voltages and/or frequencies