Submerged Bore Pumps
---
S4A-50 M 230 V EL.P MOT. FRANKLIN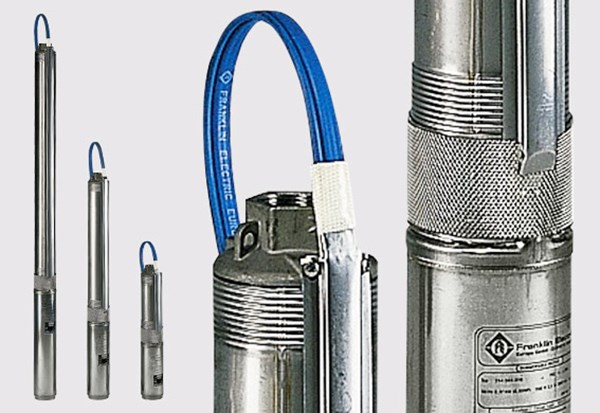 Applications 
Bore hole pumps for 4" wells or greater capable of developing a wide range of flow rates and heads. These pumps can be used in a wide range of lifting, distributing and pressurising applications in civil and industrial supplies, autoclaves and tanks, fire-fighting and washing installations, and irrigation systems.
Constructional features of the pump: 
Centrifugal multi-stage pump with radial or semi-axial impellers. Pump and motor directly connected with a rigid coupling. The technopolymer impeller with parts subject to wear in stainless steel, operating on floating adjustment rings in abrasion-proof synthetic material and the technopolymer diffusers make the pump particularly hardwearing. Pump liner, shaft with coupling, filter and cable sheath in stainless steel. Base and upper head in precision-cast AISI 304 steel with steel check valve incorporated in the head. These pumps comply with Community Directives.
Constructional features of the motor: 
Asynchronous 2-pole submerged motor totally built from AISI 304 stainless steel. Squirrel-cage rotor mounted on a self-centring thrust block bearing suitable for withstanding axial loads. The bearing and the bushings are cooled by the water so as to prevent dangers of pollution. Stator encased in synthetic resin with high quality dielectric inserted in a stainless steel airtight casing. Capacitor and manually resettable overload cut-out located on the standard supplied electrical power panel for the single-phase version.
The user must provide overload protection for the three-phase version. 
Flanging to NEMA - 4"
Protection level: IP58
Heat insulation class: B
Cooling flow: 8 cm/sec.
Max. number of starts/hour: 20
Input voltage: 
single-phase 220-230 V/50Hz
three-phase 400 V/50Hz
Operating range: from 0,3 to 24 m3/h with head up to 320 metres;
Liquid quality requirements: clean, free from solids or abrasive substances, non viscous, non aggressive, non crystallized, chemically neutral, close to the characteristics of water.
Liquid temperature range: from 0°C to +40°C
Maximum quantity of sand: 120 gr/m3
Installation: in wells and boreholes with a diameter of 4" or greater,
tanks and cisterns, in a vertical position.
Starts/hour: max. 20
Special executions on request: other voltages and/or frequencies
On request, the CONTROL BOX HS for increasing the static torque may be supplied for the single-phase version.